2018 ANNUAL MEETING
November 11 & 12, 2018
hosted by
Qatar University, College of Law
Doha, Qatar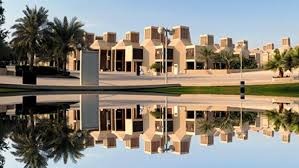 ---
Registration Opens April 2018
---
General Meeting Information
The Annual Meeting will take place at Qatar University, College of Law in Doha, Qatar.  The Annual Meeting is open to all law leaders, faculty, administration, students and judges.  The meeting begins with a welcome dinner on Saturday, November 10, followed by a full meeting day on Sunday, November 11, and a final half meeting day on Monday, November 12.
Theme
More Information will be available soon.
Registration Fees
More Information will be available soon.
Transportation
More Information will be available soon.
Accommodations
More Information will be available soon.
Visa Requirements
Please visit the local Qatar Consulate in your country to check for your countries requirements for travelling to India. Please be aware that getting your Visa is a process and may take time to get; for this reason, please allot ample time for this to ensure that you receive your Visa before your trip. We will only send you an official invitation if you marked "yes" during registration.
Subsidy
Limited funding is available for participants from developing countries that are current members. In the event that a participant or his/her institution is unable to provide the full amount for transportation and/or accommodations, funding is available to partner with the participant or his/her institution to share part of that expense. The Committee will review the applications and make the final decision. Preference for such stipends are first afforded to members of IALS, prior requests and determined on the basis of maintaining diversity of participation at the meeting. Attendees can apply for subsidy by completing the Subsidy Request Form, click here. Deadline to apply by August 15, 2018.  Notification will be made by September 15, 2018.
Meet our Host: Qatar University, College of Law
Qatar University is a national university in Qatar. The University was established as the College of Education by a decree from the Emir of Qatar in 1973. The university is the only government university in the country. It provides high quality undergraduate and graduate programs that prepare competent graduates, destined to shape the future of Qatar. The university community has diverse and committed faculty who teach and conduct research, which addresses relevant local and regional challenges, advances knowledge, and contributes actively to the needs and aspirations of society. The university hosts nine colleges – Arts and Sciences, Business and Economics, Education, Engineering, Law, Sharia and Islamic Studies, Pharmacy, college of health Science, and a College of Medicine – with a total of almost 18,000 students. Courses in Qatar University are taught in Arabic or English depending on the major program plan.
Qatar University College of Law provides a unique model of Legal Education in the Arab World. In 2006, we acquired an independent status from the College of Sharia and Islamic Studies. In 2016, we proudly received accreditation from The High Council for Evaluation of Research and Higher Education (HCERES) and the British Accreditation Council (BAC). We offer a bachelor in law degree, and two master programs in private law and public law. In 2017, we expect to start another master program in international business law and a doctorate degree in law. Qatar University College of Law offers academic courses in both languages, Arabic and English. It is the only academic institution in the Arab region that offers independent and comprehensive courses on legal ethics and professional responsibility. It is also the only law school in the Arab region that appointed a clinical professor of law to direct and supervise the law clinic. Qatar College of law makes grants available for the faculty to carry out research projects, attend conferences and represent Qatar University in academic fora worldwide. It also attracts professors and legal scholars from different legal systems, including civil law and common law. Some professors are from the U.S, others from the U.K and many Arab professors who are members of the faculty, studied in the U.S and the UK. Our vision is to be the premier college of law in the region in recognition of the quality of its academic program, the achievements of its faculty and graduates, and its service to the local and the international community.