2013 Annual Meeting
The Role of Law Schools and Human Rights
March 6th-8th, 2013
Mysore, India
Thank you to all who attended the Annual Meeting in Mysore, India! We are pleased to announce that it was a success with over 100 attendees from all corners of the world. The plenary session speakers presented innovative approaches and thought-provoking papers, which helped advance legal education across the borders. We received numerous positive feedback stating that this meeting has enhanced opportunities for meaningful interaction with law faculty and colleagues from different legal systems.
Our local Indian law school sponsors made possible the Visiting Scholar programs where we trust that their exchanges proved to be a broadening experience which will lead to future collaboration between the two institutions. We are very grateful to Infosys for so generously opening up its top-notch facilities, accommodations, and dining services to us.
2013 Annual Meeting Survey Results
After the meeting a short survey was emailed to all participants and over 50% participants responded. Overall the results noted the meeting was excellent and well organzied. View Summary.
2013 Annual Meeting Pictures
Plenary Sessions and Group Discussions
Click on the links below to view summaries of the various plenary sessions and group discusion held at the meeting.
IALS Staff & Local Indian Interns
Our meeting wouldn't have progressed if not for some very helpful student interns from our local Indian law school sponsors and member volunteers. They were there to assist with meeting our delegates from the airport, to help out with registration, take down notes from the plenary sessions and small group discussions, and in answering general inquiries regarding the program. The IALS staff would like to extend our sincerest appreciation for all their assistance!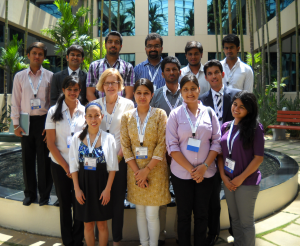 Top Row (L-R): Jay Pandya, Dharmendra Chatur, Mandeep Kalra, Sachin Ravi, Nithin Patil, Shahbaaz Husain; Middle Row (L-R): Adhunika Premkumar, Rosemary Lacey (IALS staff), Ritesh Gowda, Piyush Singh; Front Row (L-R): Anna Williams (IALS staff), Aashna Shrivastava, Satyabrata Mishra, Sonakshi Kapoor